Doctors & Staff
Meet the experienced and friendly doctors and staff who make Cook & Hayden Vision Care Center a proud provider of vision care products and services in Brighton.
---

Dr. Jeff Hayden
Owner/Optometrist
Dr. Hayden always knew he wanted to serve in the health field, but he wasn't sure about the exact career path to explore. After job-shadowing a few professionals during high school, including a local optometrist, he found his calling.
Born in Minnesota, Dr. Hayden grew up in South Bend, Indiana and Grand Blanc, Michigan. He earned his Bachelor's degree in Valparaiso University in Indiana before graduating from the Illinois College of Optometry, then launched his career at a contact lens specialty practice just south of Chicago. Next, Dr. Hayden moved back to Michigan to be closer to family and began working for Dr. Cook in Brighton in 2000.
Around the clinic, Dr. Hayden's favorite part of his job is getting to make a difference in someone's life each day. For him, interacting closely with patients to achieve the best outcome is what it's all about.
"I truly enjoy incorporating the latest technologies, science, equipment, and products to give our patients the highest level of customer service and care," said Dr. Hayden. "Providing preventative health care options for my patients is something I am passionate about. Being able to diagnose problems earlier and working with them to be proactive in their eye care and overall health needs is not just a part of my job, it's a priority."
Dr. Hayden is very active in his community as a member of the Brighton Rotary Club as well as with different clubs, teams and groups within the Brighton community and school system. As the son of a retired pastor who speaks at various churches throughout the local community, Dr. Hayden commits time to supporting and sharing his father's messages.
When not at work, you can find Dr. Hayden exercising and spending as much time as possible with his family. Along with his wife, Dr. Marla Hayden of Heinsight Eyecare in Milford, they have three children and love spending time creating memories on vacation around the country and being outdoors (especially exploring waterfalls, hiking paths, and national parks).
---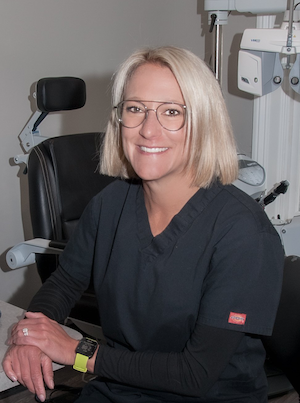 Dr. Jamie Visel
Optometrist
Growing up, Dr. Visel actually dreamed of becoming a veterinarian. But an appointment with the previous owner of Cook & Hayden Vision Care Center (Dr. Cook), helped her to realize that optometry was what would best allow her to put her science and medicine knowledge towards solving human problems.
Originally from southern Ohio, Dr. Visel spent her final years of high school living in France with her family before heading off to college. She first joined the Cook & Hayden Vision Care Center team in 2002 as a Preliminary Technician during optometry school. After working at Sears Optical and then at a private practice in Ann Arbor for a time, Dr. Visel returned to Cook and Hayden Vision Care Center as an Optometrist.
Her professional specialties and years of experience include primary care optometry, contact lenses, dry eye, and glaucoma.
"Being able to provide a comfortable and professional environment in which our patients can not only be diagnosed accurately, but find real solutions to eye care issues, is something I am very proud of," says Dr. Visel. "Each time I work with a patient, I strive to help them find answers to their questions and ensure that they are getting the best care – because they deserve it."
Outside of work, Dr. Visel loves traveling to new places, cooking, and running – including having participated in the Boston Marathon. She shares her life with husband, Don, and their dog, Rufus, who is often there in the office to greet
patients.
---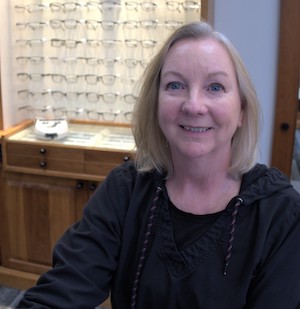 Marty
Optician
As a certified Optician for more than four years, Marty started at Cook & Hayden Vision Center at the front desk, which made for an easy transition and familiar face for patients.
"We have a great team at VCC," says Marty. "Dr. Hayden and Dr. Visel take the time to explain options to their patients, whether it's for new glasses or general eye health, and that makes my job as an optician easier when the patient is at my desk."
Marty moved to the Fenton area in 2002 and worked in Lansing at an office prior to coming to Cook & Hayden Vision Care Center. Married for 41 years, she has three children and four grandchildren. When not working, she enjoys reading, crafting, and ringing/directing Hand Bells at Brighton Presbyterian Church. One very special part of Marty's life is her rescue dog, Cookie, who often sits by her desk and greets patients.
---
Jamie
Optician
With experience in optometry, ophthalmology and lab work Jamie brings a well-rounded 30-year optical career to VCC. As a matter of fact, if your eyeglasses are being made onsite at the office, they most likely will be made by Jamie.
"I truly love what I do, and it makes my day to help someone see and look their best," says Jamie.
Originally from Brighton, MI, Jamie has lived in Livingston County his entire life. When he's not working, he is spending time with his wife, children and two dogs Piper and Masey.
---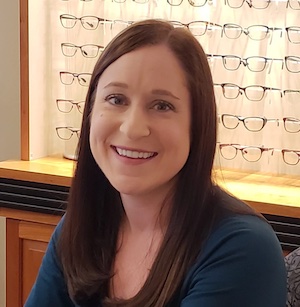 Megan
Office Manager
After a stint in the retail world, Megan made a life-altering career change when she signed on as a Technician at Cook and Hayden Vision Care Center more than five years ago. Now as Office Manager, she is key to keeping Cook & Hayden Vision Care Center's day-to-day operations running smoothly.
"Nothing beats the feeling of helping a patient who has been struggling with vision issues," says Megan. "The moment that they put on a new pair of glasses and immediately notice the difference makes my day."
A native of Brighton, MI, Megan enjoys spending time with her family, watching movies, reading, completing puzzles, bicycling and traveling.
---
Courtney
Technician
Originally a patient of Cook & Hayden Vision Care Center, Courtney joined the team in 2020 after spending seven years in the world of veterinary medicine. In her role, she ensures patients are comfortable and prepared to see their doctor.
"Transitioning from animal care to people care has been a great experience for me," says Courtney. "It's all about helping, which I really enjoy."
Courtney is from St. Clair Shores, Michigan and moved to Brighton in early 2006. When she's not at work, Courtney can be found spending quality time with her family. She and her husband, James, have two young boys, Simon and Nathan, and three adored cats.
---
Karlen
Receptionist
As one of the newest members to the team, Karlen is the friendly face you'll see at the front desk when you come into the office or the helpful voice you'll hear when you call.
"I love being part of a team with the same goals," says Karlen. "Making sure every patient has an excellent visit is a priority for everyone here from the minute a patient walks in the door."
A Brighton native, Karlen loves spending time with family and friends, going camping and reading great books.
---
Cyndi
Insurance Biller
As Cook & Hayden's go-to specialist for anything insurance or billing related, Cyndi brings more than 20 years of experience in administration and the optical business. Her broad range of skills means she's an asset behind the scenes with billing and office administration and can occasionally work in the office greeting customers or assisting in exam rooms.
"It sounds crazy, but I love billing! It has always been my favorite," says Cyndi. "I am very lucky to have the opportunity to do what I love."
Originally from Brighton, MI, Cyndi enjoys reading, fostering animals for her friend's rescue and hiking.
---
Rufus & Cookie
Greeters


As the "official greeters" at Cook & Hayden Vision Care Center, they share a mission to put a smile on the face of everyone who walks through the doors.
Rufus started coming to Cook and Hayden Vision Care Center with his mom, Dr. Visel, as a puppy. His favorite pastimes include eating food, swimming, going out on the boat, and trying to chase rabbits.
You'll usually find Cookie in her bed next to her mom Marty's desk. Even as a senior citizen, this rescue gets excited when patients say hi!
---