Doctors & Staff
Meet the experienced and friendly doctors and staff who make Cook & Hayden Vision Care Center a proud provider of vision care products and services in Brighton.
Dr. Hayden – Optometrist
Dr. Hayden always knew he wanted to serve in the health field, but he wasn't sure about the exact career path to explore. After job-shadowing a few professionals during high school, he found himself shadowing a local optometrist. Dr. Hayden immediately noticed the difference the optometrist was able to make in her patients' lives—he knew he wanted to do the same thing. It wasn't long before he'd decided to become an optometrist himself!
Born in Minnesota, Dr. Hayden grew up in South Bend, Indiana and Grand Blanc, Michigan. He earned his Bachelor's degree in Valparaiso University in Indiana before graduating from the Illinois College of Optometry, then launched his career at a contact lens specialty practice just south of Chicago. Next, Dr. Hayden moved back to Michigan to be closer to family and began working for Dr. Cook in Brighton in 2000. The rest is history!
Around the clinic, Dr. Hayden's favorite part of his job is getting to make a difference in someone's life almost every day. He loves that he almost never has to deliver bad news! For him, interacting closely with patients to achieve the best outcome is what it's all about.
Dr. Hayden's interests outside of work include exercising and spending as much time as possible with his family. They love to spend time outdoors, and they've taken several great vacations around the country exploring as many waterfalls, hiking paths, and national parks as they can.
---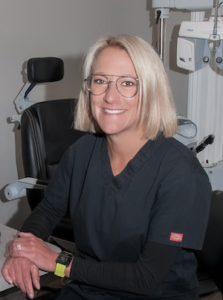 Dr. Visel – Optometrist
Growing up, Dr. Visel dreamed of becoming a veterinarian. When she started working toward that goal in her college years, however, she realized it wasn't quite the right fit. At this pivotal moment, she had an appointment with her optometrist—Dr. Cook. This sparked an interest in the profession that just never let up! Dr. Visel knew that she wanted to use science and medicine to solve patients' eye problems and give them the best eyesight possible.
Dr. Visel is originally from southern Ohio, and spent her final years of high school living in France with her family before heading off to college. She first joined the Cook and Hayden Vision Care Center team in 2002 as a Preliminary Technician during optometry school. After working at Sears Optical and then at a private practice in Ann Arbor for a time, Dr. Visel returned to Cook and Hayden Vision Care Center as an Optometrist; she's been helping the patients of the area see better ever since.
Outside of work, Dr. Visel loves traveling to new places, cooking, and running. A few years ago she qualified for and ran the Boston Marathon, a crowning achievement in her running career! She shares her life with husband, Don, and their dog, Rufus, who can be seen right here at Cook and Hayden Vision Care Center on most days.
---
Marty – Optician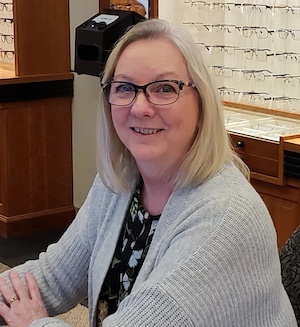 Bio Coming Soon!
---
Megan – Office Manager
For Megan, nothing beats the feeling of helping a patient who has been struggling with vision issues. The moment that they put on a new pair of glasses and immediately notice the difference makes it all worth it! Megan keeps things running like a well-oiled machine here at Cook and Hayden Vision Care Center as our Office Manager.
After a stint in the retail world, Megan decided to make a career change and signed on as a Technician here at Cook and Hayden Vision Care Center. That was five years ago, and she's been a part of the family ever since! Megan now serves as Office Manager. She particularly likes learning new things on an almost daily basis and helping patients to choose their perfect frames.
Away from the office, Megan enjoys spending time with her family, watching great movies, reading, completing puzzles, bicycling, and traveling.
---
Courtney – Customer Service Representative
Long before she was employed here at Cook and Hayden Vision Care Center, Courtney was a patient. When she found out about a job opening, she knew it was the perfect chance to join an all-star team and help people see and feel their very best!
Courtney is from St. Clair Shores, Michigan and moved to Brighton in early 2006. After spending seven years in the world of veterinary medicine, she felt it was time for a change—that's when the opportunity arose to join the Cook and Hayden Vision Care Center family. Courtney became a member of the team in August of 2020 and serves as a Customer Service Representative.
When she's not at work, Courtney can be found spending quality time with her family. She and her husband, James, have two young boys, Simon and Nathan, and also share their home with three loveable cats.
---
Cyndi – Insurance Specialist
Bio Coming Soon!
---
Rufus – Greeter
As the official Greeter here at Cook and Hayden Vision Care Center, Rufus makes it his mission to put a smile on the face of everyone who walks through our doors. He's an essential part of the clinic family!
Rufus started coming to Cook and Hayden Vision Care Center with his mom, Dr. Visel, when he was only 12 weeks old. That was four years ago, and he's stuck around ever since! His favorite pastimes include eating food, swimming, going out on the boat, and trying to chase rabbits.
Around the clinic, Rufus particularly likes when young children visit. In the wintertime, he's been known to try and steal their hats!
---