Our Top Lens Care Tips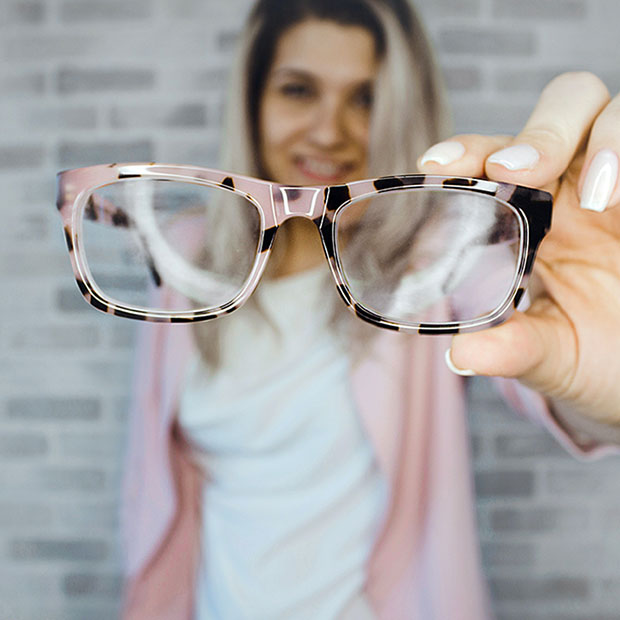 Glasses and contact lenses are small things that make a huge difference.
If you wear glasses or contacts, you probably remember what it was like the first time you put them on and could suddenly see individual blades of grass and leaves on trees. The ability to see clearly is critical for so many of our daily tasks, and that's why it's so important to take good care of our corrective lenses.
The Right Way to Clean and Store Glasses
Glasses need regular cleaning to keep them clear of the smudges, dust, oil, and other debris that tends to gather on them. Avoid reaching for the hem of your shirt, though. The best way to prevent scratches when cleaning glasses is to use a cotton or microfiber cloth and glasses cleaner. You can make your own glasses cleaner by adding a drop of dish soap to a small spray bottle of water.
If you don't have your dedicated glasses cloth available and really need to clean off some smudges, the hem of your shirt is a much better option than tissues or napkins. Any paper-based material is made of wood and can leave scratches on your glasses. Also make sure to avoid using window cleaner or ammonia on your glasses because they will dissolve any protective coatings on them.
As to the proper storage of your glasses, make sure to keep them in their case whenever you aren't wearing them. This will protect them from falling off surfaces or getting accidentally smashed.
Practice Good Contact Lens Safety
It's a little more complicated to take good care of contact lenses, as they are medical devices that sit directly on top of the eye. Cleaning them, therefore, is as much about hygiene as it is about keeping them in good shape. We urge our patients to follow all of these tips:
Always wash your hands before handling your contact lenses.
Only use fresh contact lens solution for cleaning and storing contact lenses. A single use is enough to contaminate the solution!
Do NOT use water on contact lenses (and using spit is even worse) because water contains microorganisms that could be harmful to your eyes.
Follow all instructions on the packaging, including how often to replace contacts and how long to wear them before giving your eyes a rest.
Never cut corners with contact lens care. Saving a little money by reusing contact lens solution isn't worth the eye infection that could result.
More on Eye Infection Prevention
Eye infections are more of a risk for those who wear contact lenses, but there are many ways to minimize that risk. These include avoiding touching or rubbing your eyes (which can introduce germs, damage the lens, or even scratch the cornea), making a conscious effort to blink more often, staying hydrated, and using eye drops if your eyes feel uncomfortably dry.
Bring Us Your Lens Questions and Problems
No matter what kind of corrective lens you prefer, never hesitate to come to us with your questions about how to care for them. We want our patients to get the most out of their glasses or contact lenses. We also encourage you to get in touch about any irritation, redness, or other symptoms of eye infection that you may experience. Otherwise, we look forward to seeing you again at your next regular eye exam.
Don't forget that eye exams aren't just for new prescriptions!
Top image used under CC0 Public Domain license. Image cropped and modified from original.
The content on this blog is not intended to be a substitute for professional medical advice, diagnosis, or treatment. Always seek the advice of qualified health providers with questions you may have regarding medical conditions.